Quote:
I looked at the trip cost for a fly there, drive back situation:



If I drove my trade there, it would be a 4 day trip minimum. One day to get half way, stay at motel, one day to get to STL, buy truck, stay at dad's, one day to get half the way back, stay at motel, one day to get home. $280 in gas, 4 days worth of food, 2 nights in crappy whatever motel, yeah, that's not as much as flying and driving back. But, 4 days means I need to take time from work, and the wife would not be cool with having to watch the baby alone for 4 days just so I can go get my truck.

Laura is great for a lot of situations, but it seems mine is not their forte.
Its a long hall for sure. When I moved from Oregon to NC I drove across country and it took me 4 days. I drove from Utah to Lincoln NB on the second day at that is a similar distance to what you are talking one way. I would never do that twice...it would have to be a fly and drive and sell my trade in to Carmax or private buyer deal closer to home. Plus driving your trade in would be like the value dropping on it the closer you got to Laura. Its 823 miles from my house to Laura. I would do it, but plane tickets to St. Louis from Charlotte are usually pretty cheap.
---
2017 GMC Canyon All Terrain X Quick Silver Metallic
Member
Join Date: Feb 2014
Location: Salt Lake City, Utah
Posts: 33
Quote:
Quote:
Your dealers in TX are more flexible than the dealers are here in CO, especially of one wants a diesel. They are trying to peddle used trucks with 15K miles on them for more than you are buying your new truck for. Sounds like you got yourself a good deal.

The conquest rebate should apply to Laura too though. Laura's prices are standalone, any rebates from GM are in addition to the Laura discount. Been checking Everett lately, they seem to be about 1K higher than Laura and they are probably quite a bit closer to you.

I'm grinding pretty hard on the price I pay as I am dropping cash for the truck and plan to keep it for at least 10 years. A couple grand saved is a couple grand less out of my pocket in the here and now. Have always bought cars this way. Kind of a freak in that regard...
I'm in Colorado...
The conquest rebate sounded like a lease rebate. Laura will not do out of state leases, so it doesn't seem to apply. Can't find anything on GMC or GMs website about the offer though.
Haha, I just had to order a Colorado from Colorado just to get a bonus tag. The dealers here in Utah haven't been willing to budge on the prices of the ones on their lots and there were none with bonus tags in the state. I just have to pay $500 for them to ship it to the dealership here. Totally worth it though
It is beginning to look like a deal won't happen before the end of the month (still waiting for my car to be done at body shop). So, I am hoping March incentives are as good or better than they are now.
Priced out two different trucks:
Quote:
2017 Chevrolet Colorado Z71 (V6 LGZ + 8AT)
Cyber Gray Metallic
Trailering Equipment
5" Rectangular Assist Steps
Bose 7 Speaker System
Spray on Bedliner
Black Bowtie Package

This dealer wants $34k for it (because of Bonus Cash, etc)
And
Quote:
OK, I found a 17 Canyon SLE All Terrain in state with the following:

Onyx Black
All Terrain
Trailering Package (with Trailer Brake Controller)
Spray On Bedliner

MSRP - $38,585
Supplier Price - $36,820.46
Conquest Rebate - $2000.00

Sale Price - $34,820.46
Even though the Canyon is about $1000 more, the lease payments are the same because the residual on the canyon is about $1000 more, so I would be paying the same depreciation. (According the GMC and Chevy payment estimators). The Canyon doesn't have Bose, or the Assist steps (which I would probably sell soon after if I got the Colorado), but that isn't a deal breaker for me.
I'm leaning much more toward the Canyon, but I hope the conquest rebate (which seemed to work for finance or lease according to the dealer) continues into March, or the pricing gets better. If these dealerships sell these trucks by the time I can trade in, I will just keep looking around.
depends what your style is they are identical interior-wise and basically just different fenders and front end.
they drive the same
I am looking to ink a deal in the morning for a Canyon All Terrain.

I'm going with the canyon because of the style, and I think the interior is a little nicer with the stitched dash, etc.

I'll post pics tomorrow after I pick it up.
Senior Member
Join Date: May 2016
Location: Motown
Posts: 472
Quote:
Dilemma - What would you do? Canyon vs Colorado
Neither of those choices. If I lived in Colorado I would want the performance turbo diesel over a normally aspirated engine. And I really like the exhaust braking on grades.
But hey, I live in flatland and still prefer the diesel. If I were out there there is no way I'd buy a gasser.
For me, the Diesel didn't make sense. $3k+ "Upgrade" that I didn't want.

1. Although I like turbos in high altitude because they lose less horsepower, I didn't want to sacrifice acceleration. At one point I said I wouldn't own a non-turbo, but never said that would be a turbo-diesel. I am coming from a turbo Subaru, so I wanted something quicker than the diesel offers. I drove a 16 Colorado, and wasn't impressed, now with the new engine/trans combo with the updated V6/8Sp, it is pretty close to the same (actually, according to car and driver, the Twins are quicker to 60 and the 1/4 than my Forester XT.)
2. I don't care about fuel economy with the way I drive. (and will take awhile to "pay for itself")
3. If I am towing anything, the V6 tow rating is only 10% less than the Diesel, and I won't even be close to that. Maybe 3000 lbs, stretching it to see I would ever do 4000 lbs.


I don't want anyone to think I am dogging on the duramax. It's a great engine, but not for me.

I'm going in the morning to get the Canyon that I mentioned a couple posts up. This dealer not only gets close to Laura's pricing, they are also offering $3k - $4k more for my trade than any other dealer.


With the test drives that I did, the Canyon All Terrain interior felt nicer than the Z71 (not just the contrast stitching and covered dash, but the overall feel.)
They drove the same, but they have the same suspension and tires, so I don't see why they wouldn't. I like the Canyon exterior style a little better too, but I feel sometimes it is the "red-headed step child" between the twins.

The wife has already nicknamed the new truck Canyonero, because of the Simpson's episode.


---
Last edited by monkeyracer; 02-24-2017 at

11:15 PM

.
Senior Member
Join Date: Sep 2014
Location: S.W. Florida
Posts: 3,006
Good luck. I know how the test ride felt.
I'm trading my 15 in tomorrow
Ok, I picked this up on Saturday: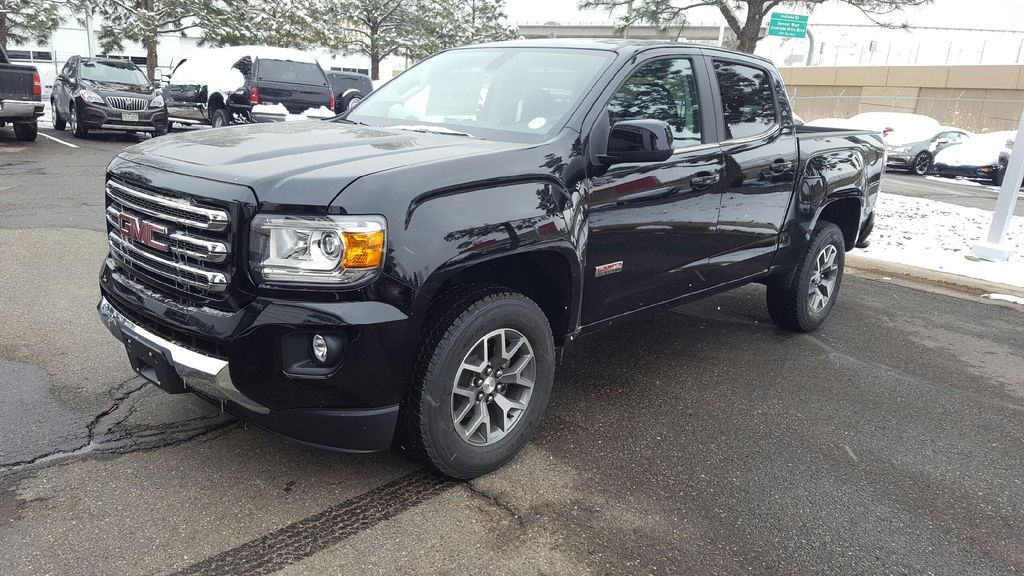 It is:
2017 Canyon SLE All Terrain
Onyx Black
All Terrain Package
Trailering Equipment
Trailer Brake Controller
Spray On Bedliner
MSRP - $38,585
Supplier Price - $36,820.46
Conquest Rebate - $2000.00
Sale Price - $34,820.46
This dealer also gave me $3000 - $4000 more for my trade than any other dealer around.
Very happy with the truck so far, but thanks to this forum, I've got a list of mods and upgrades I will be doing to this soon.