Coming Soon - Top Mount Supercharger Kit!
---
Very pleased that we're nearly ready to release our top mount supercharger system for the 2015-2016 Colorado/Canyon 3.6 V6. This system will be the ultimate answer to your performance needs, adding over 100 horsepower to the wheels, and considerable improvements in low and mid range torque for hauling and rock crawling needs.
Overkill has supercharger systems released or soon to be released for many 3.6 platforms, and we've developed both front mount Vortech and top mount Magnuson TVS based systems depending on the platform. For the Colorado/Canyon, we will focus on the top mount TVS supercharger. The reason is simple: more torque. While front mount centrifugal systems will develop lots of top end horsepower, it will typically develop only about 60% of its peak boost in mid-range engine rpms, and this limits torque potential. A top mounted TVS supercharger by comparison will have full boost available at any engine rpm and instantaneous to your right foot commands. We know this is the right solution for a pickup truck platform and the needs you have for your truck!
Kit will include:
*TVS 2300 Supercharger (same size as many aftermarket V8 systems)
*Custom Engineered Air/Water Intercooler Plenum
*Independent Water/Coolant System with separate radiator, top quality Bosch pump, plug and play pump wiring harness, easy to fill custom reservoir tank
*Independent 8-rib Belt System, wider belt than OEM, slip fit crankshaft pulley, Quick Change modular supercharger pulley system, leaves the OEM belt intact
*Signature Series Catch Can to properly evacuate oil vapors and keep both the supercharger and intercooler core clean!
*Overkill Tuning Service with Autocal handheld and rental wideband air/fuel systems
*Extras such as full air intake system with Amsoil air filter (can use the GMPP cold air housing), Overkill 80mm throttle body.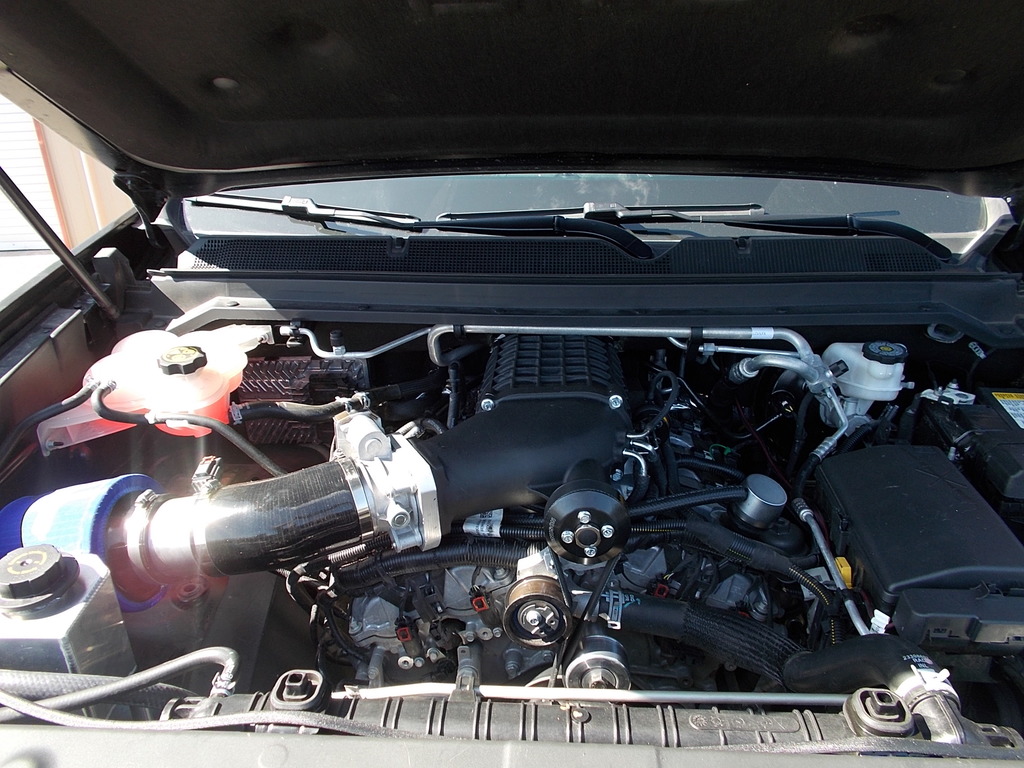 Overkill Supercharger Systems is a joint venture between the 3.6 Specialists at Overkill Motorsport and APDEG - Automotive Product Design and Engineering Group. More information to come shortly as we ready this kit for release!
---
3.6 V6 Performance Specialist @

Overkill Tuning with Autocal Handheld/HPTuners/Diablosport, Larger Throttle Body, JACFAB Manifold Spacer, Flex Fuel Conversion Kit and Soon a Supercharger Kit
Go Directly To The C/C Product Page using
ColoradoTune.com
or
CanyonTune.com
Senior Member
Join Date: Feb 2015
Location: Edmonton, Alberta Canada
Posts: 953
Best part is it looks like it's "Made In Canada" (Canadian retailer anyways), so it will only cost most of you 75% in Canadian Pesos vs your American $$ LOL
---
2015 Canyon SLT | 4WD | CC | SB | V6 | Summit White | Blk Leather | Nav | Bose | Safety Pkg | Remote Start | 5" Blk Assist Steps | GM Splash Guards | OBDLink MX Bluetooth Adapter & Torque Pro Software | Bull Ring Tie Downs | X-Pel Clear Film (Door Sill & Rear Lower Box) | Husky X-act Contour Front & Back Floor Mats | Z71/All-Terrain Transfer Case Skid Plate | SuperSkidz Front Skid Plate | Rocker Pinch Welds Blacked Out | Debadged | Blizzacks (For Winter)
How to Search vBulletin.org effectively
We'll advertise the price in US currency, avoids confusion! This kit will ship from British Columbia for all orders north of the border here, and from our Bradenton Florida location for all orders within the United States.

A good time also to mention that all the machining is done in the Florida, and the vast majority of the kit parts are made in the USA or Canada.
---
3.6 V6 Performance Specialist @

Overkill Tuning with Autocal Handheld/HPTuners/Diablosport, Larger Throttle Body, JACFAB Manifold Spacer, Flex Fuel Conversion Kit and Soon a Supercharger Kit
Go Directly To The C/C Product Page using
ColoradoTune.com
or
CanyonTune.com