Stock Suspension
The wheels are 18x7.5 inch and are stock wheels from a 2010 Lexus GX460 SUV. I had them acid dipped then powder-coated gloss black and added the chrome centers which match the door handles and grill nicely and tastefully. I used the sensors from the original steel wheels and turned in the General tires that came with the truck for a $200 credit...not bad.
I have $675 in the wheels and another $550 in tires. 235 55 18s General Altimax RT43
I really like the way they turned out and have gotten many compliments. The only problem is the wheels now stick out about 1/2 inch more than the stockers. They look good this way, have more stance and actually make the truck handle better but I have to be very careful when dressing the tires as to not get sling over the sides.
---
Last edited by vezpa; 06-19-2014 at

02:43 PM

.
Junior Member
Join Date: Nov 2014
Location: Fort Worth ,Tx
Posts: 1
2012 colorado crew cab z71 2wd
TB crank, flipped upper balljoint, 2 inch shackles, 1.5 inch body lift.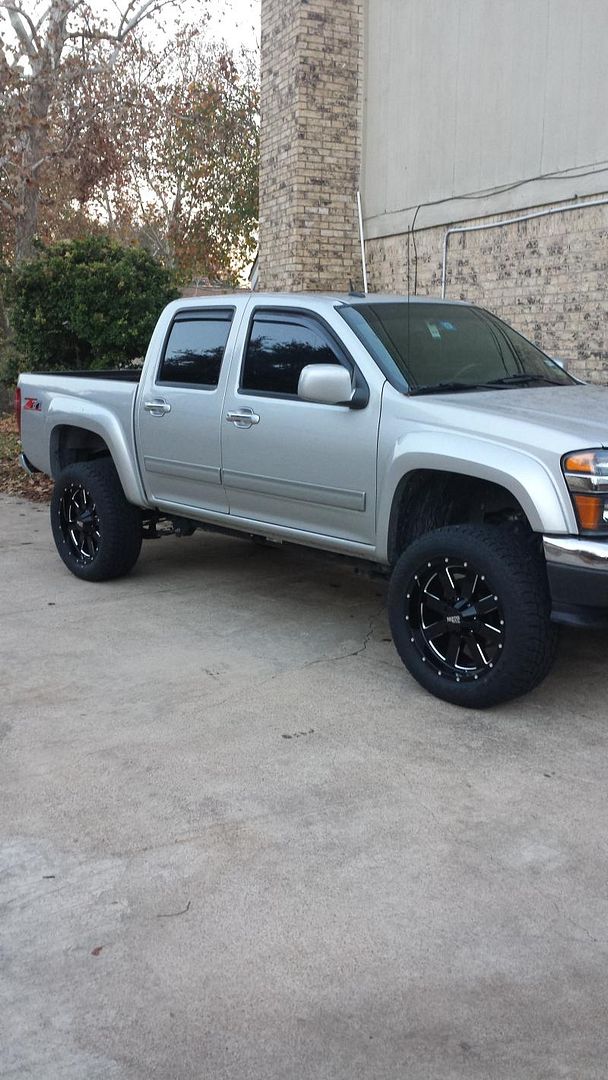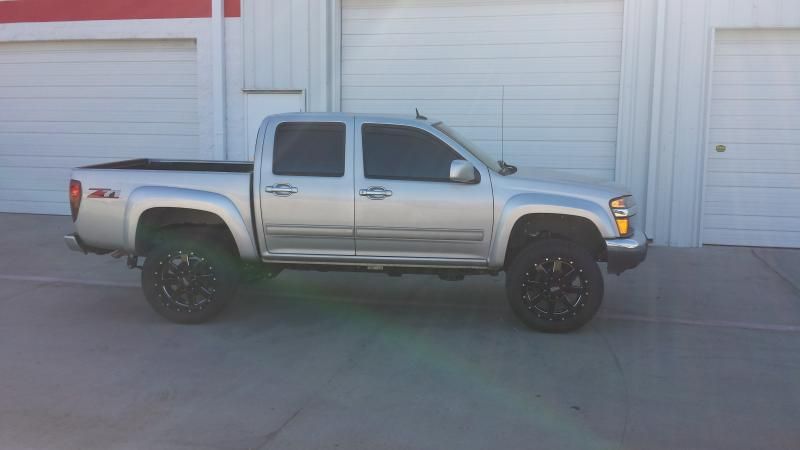 20x9 Moto Metal wheels
5 inch backspacing
275-55 Toyo AT2 tires
No rubbing, bumper and valance are not cut for tire/wheel clearance
Junior Member
Join Date: Jan 2015
Location: Idaho
Posts: 1
Member
Join Date: Apr 2011
Location: New Milford CT
Posts: 47
Ultra wheel phantoms 17x8 +1mm offset
goodyear wrangler duratrac's 285/70/17

have a 4" suspension lift to clear them, and had to do some very minor trimming .
---
---------------------------------------------------------
2005 4x4 Z71 3.5L Ex Cab Colorado [Totalled
]
2006 4x4 Z71 3.5L Crew Cab Colorado
Lifted with some other mods
Junior Member
Join Date: May 2007
Location: The Great White North eh
Posts: 23
I waited until my stock tires wore out, then put snow tires on those rims and bought these for the summer.
255/55R20 with 30mm offset.
I had to trim the edge of the wheel flair and have my torsion bar cranked a bit to stop rubbing in sharpe turns. But well worth it.
i found these rims in the window of a tire shop for $600 cad.
http://postimg.org/image/8q491qkah
Junior Member
Join Date: Dec 2015
Posts: 2
nice truck. whats the specs on it? any lift or is that just the tires?
Junior Member
Join Date: Dec 2015
Posts: 2
Junior Member
Join Date: Oct 2015
Posts: 2
Need some Intel please 2005 crew cab sport or zq8 will either of these fit with a 2 1/4" lift 0 offset 265/50r20 (30.5 x 10.5) or 285/50r20 (31 x 11)
Member
Join Date: Jan 2016
Posts: 34
2012 Colorado 4x4 with Silverado Z71 wheels, 265/65/18, no lift or anything.
Junior Member
Join Date: May 2016
Posts: 1
Here is what I've come up with after looking up wheel size and offset. It was a little hard to deside what to get but I believe it looks great and functions well even off road.

-32"x10.5 BF Goodrich Mudd Terrains
-17" x 8.5" +12 off set 4.5" Back Spacing Vision 5 Spoke wheels
-3" Suspension lift
-Diff Drop
-Billstien shocks (on order)
Junior Member
Join Date: Nov 2015
Location: OHIO
Posts: 19
Fuel Krank Wheels
---
17x9 Fuel Kranks with +20 offset, wrapped with 265/70/17 General Grabber AT2's. 2.5"lift on torsion bar crank up front, 2" lift on shackles in the back. I don't have any rubbing from lock to lock.
Junior Member
Join Date: Sep 2016
Posts: 3
Junior Member
Join Date: Dec 2016
Location: Denver Pa
Posts: 6
2007 Z85 Rwd, 2.9 I4, 2.5 inch Readylift suspension lift, 30/10.5/15 Yokohama Geolandar A/T S, 15x7, 0 offset, Cragar Soft 8's.
---
iwannaridemybicycle