Junior Member
Join Date: Apr 2009
Posts: 4
how do you remove back seat, installing amp
---
how do you remove back seat, does anyone know (crew cab), i would assume you just take the 4 bolts out, but is that it, i have just bought a new sub box for under the seat, and it says that it wll be easier if i remove the seat, where would a good place to install my amp, i have seen the one behind the seat but was wondering if it will get to hot (i live in texas), super duper hot. anyone got any ideas on how to remove the back seat, thanks guys, i am real excited about installing these subs/amp. i love my truck, it will pull more girls than any ford, to bad they are considering bankrupt, thats what happens.
Senior Member
Join Date: Jun 2007
Location: SINCAL
Posts: 2,689
Re: how do you remove back seat, installing amp
---
yep 4 nuts and you are done. dont for get to unclip the middle seat belt. most peeps run the amp behind the seat. have not heard any one with problems.

and welcome to c-fans.
---
The Wolf! QA1 Rydahs!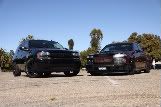 Click
HERE
to see
SinSity Kustomz Productz
Re: how do you remove back seat, installing amp
---
I have both my amps behind the seat in my truck...no one has complained about a hot seatback yet.
---
1964 Chevy Impala Convertible, mostly stock, 90,000 miles
2005 GMC Canyon CC 3.5L Offroad 4x4, lots of mods
http://canada355.com
-Branden
"Stupidity is like nuclear power...it can be used for good or evil...and you don't want to get any on you"
Senior Member
Join Date: Aug 2008
Posts: 1,120
Re: how do you remove back seat, installing amp
---
what box did you get by chance??
---
'05 crew cab z71 canyon
Lifted Club Member #256

Audio:
jvc kw-avx810 with ipod cable, alpine spr-17's all around, alpine pdx-5,
uts sub box with 2 8" boston subs ------FOR SALE, PM if interested

Misc:
viper 5900 alarm w/ remote start, painted interior to match,
tinted tails and 3rd brake light, 20% front tint and 35% rear tint,
3" suspension maxx keys and 2.5 " aal

Future Mods:
pro comp 18's, ddm HIDs, supermod interior light and DRLs,
mbrp cool duals, k&n cold air intake, painted mirrors and handles to match
Member
Join Date: Apr 2009
Location: Winnipeg, Manitoba , Canada
Posts: 50
Re: how do you remove back seat, installing amp
---
hey guys how do u mount an amp to the cab wall in an ext cab underneath the rear window i was told that its not possible ? is that true im using a Kicker 900.2 amp
---
AUDIO
2 alpine type R subs
2 JL vr series door speakers with tweeters
1 Kicker 900X2 amp
1 Raptor cap
Alpine head unit

ENGINE
Dual flow pro exhaust

OTHER
Max car R HID'S 6000 k

Canyon & Colorado club of CANADA! member # 28!