My Blazer
---
Well I'm new here, and I don't own a Colorado(yet), I'll show off my little '85 S10 Blazer.
These are the most recent pics I have of it: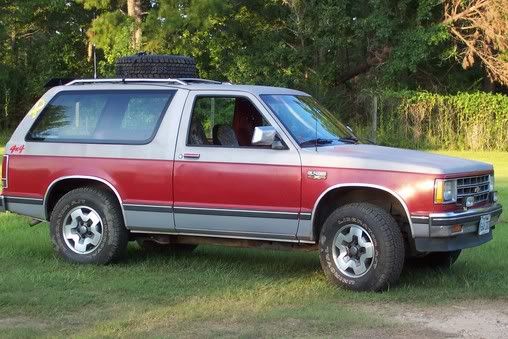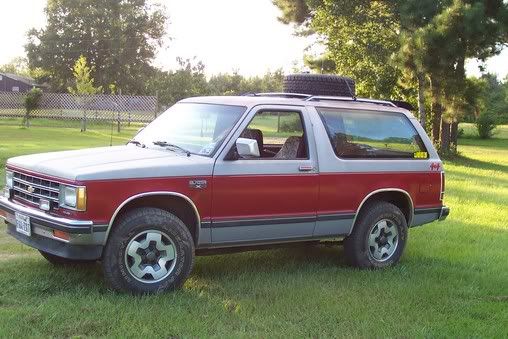 Its got a K&N Intake system, new radiator, water pump, Bosch Plat. 4 spark plugs, a 2.8 v6, posi-lok front end, 3.73 gears, ZR2 Rims, full size spare, a 4ft Firestik CB Intenna, Midland CB, new spring packs in the back, camo seat covers, JVC head unit, 2 10in MTX Subs(for sale!) along with a Lightning Audio 200watt amp(also for sale) and a optima red top, thats about all i can think about right now.
(Sorry if pics are to big)
---

So what if I own a S10, at least I have a v6
Senior Member
Join Date: Nov 2005
Location: IN
Posts: 3,901
Looks clean, pretty straight and rust free for a 21 year old truck. I've always liked 2dr 1st gen S10 Blazers.
---
04 Colorado ZQ8 I5/AT
If you can't afford to do it right, then how can you afford to do it twice?
Senior Member
Join Date: Sep 2006
Location: Portland, OR
Posts: 1,062
looks very clean.. I have got one myself!
88 s10 2wd 4.3L
3/4drop, interior swap(blue to black), suicide hood, soon to have a 5.7L in it this winter.
Member
Join Date: Oct 2006
Location: Longmont Colorado
Posts: 37
eww first gens lol j\k awsome blazers guys
---
My 95 blazer
---
My 95 with 170k plus on it.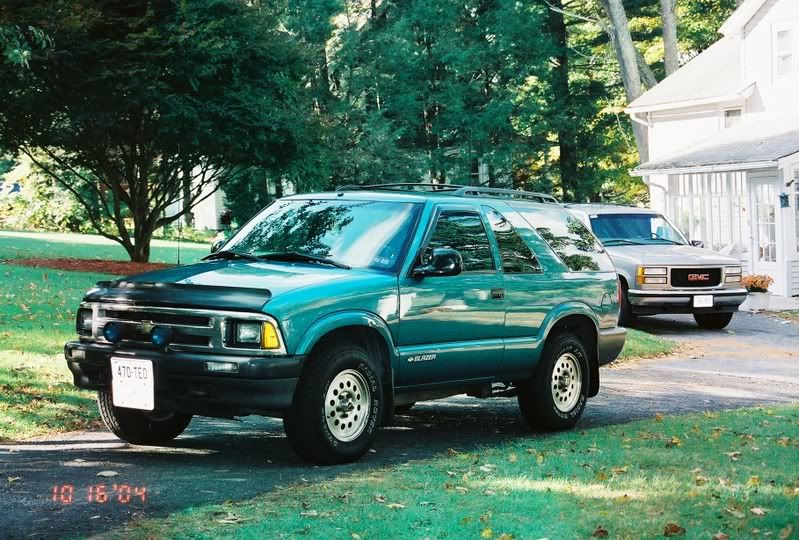 [/img]
Re: My Blazer
---
nice=)
---
ThisPlaceisDeaditsuck
Re: My Blazer
---
2 door blazers are awesome.
---
1964 Chevy Impala Convertible, mostly stock, 90,000 miles
2005 GMC Canyon CC 3.5L Offroad 4x4, lots of mods
http://canada355.com
-Branden
"Stupidity is like nuclear power...it can be used for good or evil...and you don't want to get any on you"
Senior Member
Join Date: Feb 2013
Posts: 183
Love the blazer. looks great with the late model rims.