Facelift for global colorado spy pic
---
---
2001 chevy s10 sportside reg cab zq8
2015 chevy colorado Z71 EC *Diode Dynamics 6000k HID *Diode Dynamics 6000k Switchbacks *Diode Dynamics 6000k LEDS *CORSA Performance Exhaust *PUTCO Billet Pedals *Billet interior knob kit *DRL Harness *BAKflip vp Tonneau *Smoked 3rd Brake Light *POP&LOCK Locking Tailgate.
Bears a strong resemblance to the '16 Malibu. IMO, looks a little less like truck and a little more like car.
What I want to see more on is the rocker panels on the doors in that pic.
---
Mods: hood protector | in-channel visors | tinted windows | LED Headlights | LED interior lights | LED footwell lights | brake controller | painted bow-ties | debadged | bump step | terrain hx steps | painted calipers | painted interior trim | seat covers | Z71 grille | AT3 Falkens

Senior Member
Join Date: Aug 2015
Location: Colorado
Posts: 196
I really hope that's fake......

Edit: didn't see it said India...
That thing got hit with the ugly stick...
---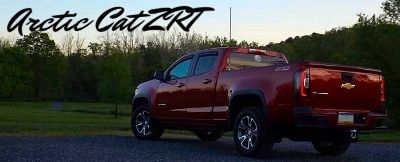 2015 Colorado Red Rock Metallic CC Long Bed Z71 4x4
-Mods So Far: Rally Armor UR Plus Flaps, Yellow Tinted Fog Lights, Access Vanish Cover, Linex, EGR Matte Black Wind Deflectors, P3 Brake Controller, MBRP Stainless Steel Cat-Back, Anzo LED Tail-lights, Uniden Bearcat 880 CB w/3' Firestik, Falken ATw3 Wildpeak 265/65R17 tires
Self Diagnosed RC Car/Truck Addict
Site Rules
Senior Member
Join Date: May 2015
Location: Mesa AZ
Posts: 102
Quote:
Originally Posted by
Arctic Cat ZRT
View Post
That thing got hit with the ugly stick...
Otherwise known as a Tacoma
I always thought the "international" version of the Colorado looked like a tadpole. WAY too car-like in the front, and wimpy down the sides. I was relieved and happy when I first sawr the U.S. version with all the changes GM made, they really took a chance and it paid off for them here. This new "international" version looks a little less like a car, but still weird. Let's just say I'm glad I don't live in the "bloody third world".
Senior Member
Join Date: Nov 2014
Location: Wyoming
Posts: 376
Will it come in pink. lol
Senior Member
Join Date: Oct 2015
Location: my house
Posts: 176
Can I say 'b*tt ugly' without getting flagged for foul language?

Hopefully they don't screw up the Canyon as well.

Love my '15 Colorado, I would not have purchased one if it looked like this 'refresh'.

just my opinion of course.