SkunkWerx Mod Meet April 22, 23 and 24 2016 - Milford, CT
---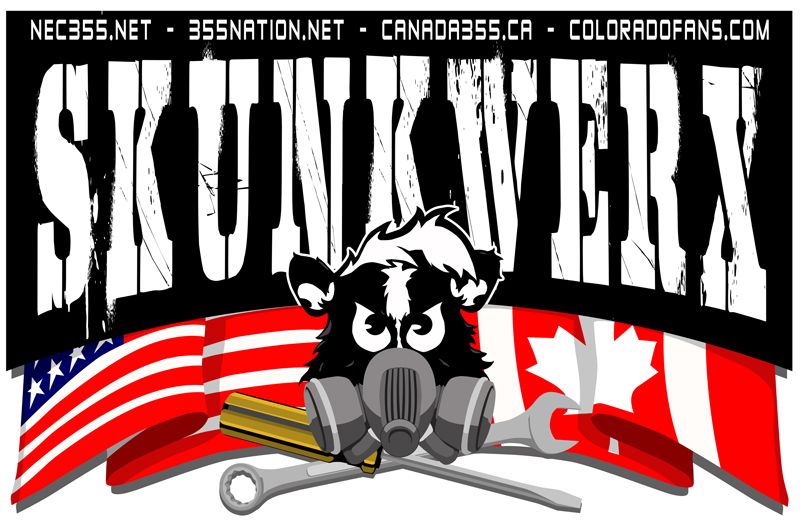 The International North East Super SkunkWerx Mod Meet (INESSMM2016) April 22nd,23rd & 24th
.
USA & CANADA
NEC355.NET, CANADA355.CA, 355NATION.NET & COLORADOFANS.COM
Event Hosted by OrangeZ71, Joe'sToy & Supermodulation
Date:
Three DAY EVENT - April 22nd,23rd & 24th 2016.
Location:
OrangeZ71 (Mal) House, 537 Locust Dr. Orange CT 06477
Food:
Hooters - 990 Boston Post Road Milford, CT 06460-3559 - (203) 878-6651
BBQ & Beer
Lodging:
Closet to Mals house:
Hotels in Orange CT | Courtyard New Haven Orange/Milford
Cheapest and closer to Hooters:
Super 8 Milford/New Haven | Milford, CT !@#06460 Motel
Caravan Mobile Communication:
GMRS/FRS Channel 8, code 1
Events:
The NEC pit crew is here to help you!
General maintenance
How to Install a SFAN4500 efan
LED interior and exterior
Ported Throttle Body swap
Matt's headlight restorations
Matt's detailing
Supermodulation Specials
. PM, email
1auction@optonline.net
or call 732-690-6443
HPTuning Services - contact me for prices
LED Signal your side mirrors for -
LED your cluster for -
LED door panels and dash -
Ported Throttle Body's Exchange Service
LED 3rd Brake Lights -
DRL LED Sequential Kits -
LED Dome lights -
License Plate LED's
Footwell LED's
Low cut off regulator, prevents led bleed when off
DTRL KIT
SuperSparks
Members Attendance List:
OrangeZ71
Supermodulation
Blue15ColoradoLT
WhiteShadowZ71
ColoradoTom
Gassey
Gunnar908
VinD
RickD
Members Maybe List:
---
2015 Laser Blue Colorado LT
CC, 4X4, V6, SB
Mods:
LED light bar - 32"
HID headlights
LED fog lights
LED high beams
LED reverse lights
LED license plate lights
LED visor lights
LED dome lights
LED switchback front turn signal lights
LED cargo light turn signal conversion
LED bed lights
LED tail lights
LED sidemarkers
Canyon swapped tail lights
Red painted calipers
Supermod ported throttle body
Silver metallic rally stripes
Super Skidz skid plate
Volant CAI
Have a Colorado but want Canyon tail lights? Or vice versa
CLICK HERE
***NOTE***
SITE RULES
Senior Member
Join Date: Jul 2015
Location: Bronx ny
Posts: 362
Senior Member
Join Date: Dec 2003
Location: orange,ct
Posts: 505
it depends on the kid. will the kid be bored? not much else going on. old enough to help?