2009 Truck Of The Week Winner #8
---
2009 Truck Of The Week Winner #8
Member:
burn
Make:
Chevrolet
Model:
Colorado
Year:
2006
Package:
Z85
Mods:
Flex-A-Lite Black Magic Xtreme 180
ScanGauge II Auto Tool
Low-Profile Crossmember
C-notch
Belltech 4205 1" Drop-Springs
Belltech 2103 2" Ball-Joints
Belltech 5953 3" Drop-Leafs
Belltech 6010 1" Blocks
Belltech 5421 Front Swaybar
Belltech 5521 Rear Swaybar
Belltech Street Performance 25005 Adjustable Front Drop Shocks
Belltech Street Performance 220896 Rear Drop Shocks
Optima Yellow-Top Battery
McCulloch 6000K HIDs (High-beams)
GE NightHawk bulbs (Low-beams)
Mr.Taillight Hi/Low Beam Harness
K&N 63-1095 AirCharger Intake
Line-X Bed Coating
Husky Liners
Kenwood KDC-X789 Head Unit
SIR-KEN1 Sirius Module
KCA-iP500 iPod Module
PPi PC2100.1 Amp
Blaupunkt ODw1000HP Subwoofer
Street Scene Gen II Rollpan
DEI LED License Plate Bolts
Color Matched Handles & Mirrors
Viper 5900SST Keyless Entry / Alarm / Remote Start
Future Mods:
20" American Racing Razor 6 wheels.
A few pics:
---
-James

Email/PAYPAL EMAIL 1auction@optonline.net
Voice/Text 732.690.6443

SUPERSKIDZ SKIDZ PLATES: Click here

SUPERMODULATION PRODUCTS: Click here
GMT700 2016 GMC CANYON SLT Z85 4X4
Re: 2009 Truck Of The Week Winner #8
---
Congrats, Burn. :D
---
"Brownstone Bumblebee"
2016 Diesel Colorado Z71 CCSB 4X4, Brownstone Metallic
HPD and Provent 200 Catch Cans, Amsoil Fluids, MetalMan Front Differential, Engine Oil Pan, & Steering Motor Skid Plate, Undercover Swing Cases
Say No! to Wheelers's Offroad!
"I respect everyone's opinion, no matter how wrong it may be."
Senior Member
Join Date: Jan 2007
Location: West Chester, OH.,U.S.A.
Posts: 566
Re: 2009 Truck Of The Week Winner #8
---
Congrats Burn !! Your ride deserves the recognition as well as your contributions to the Colorado Fans community.

I appreciate your attention to detail relative to your mods.
---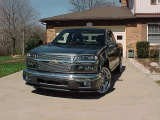 Ride'n on QA1's
Life is hard, but it is a heck of a lot harder, if your stupid ! ~ John Wayne
Senior Member
Join Date: Oct 2008
Location: Blue Springs Missouri U.S.A.
Posts: 769
Re: 2009 Truck Of The Week Winner #8
---
Congatulations Burn!
---
CORVETTEHOOP/ 2008 T.O.T.W. #40/Gun Toting American Club Member #58
1982 Silverado 2wd reg cab red/2003 S-10 black loaded Crew Cab 4x4 (R.I.P.)2008 Total Loss
2009 Colorado Z-71 4x4 Crew 3LT Black I-5 sunroof, leather, Hella 500ff's, pull bar, 20% tint, gm hitch w/pintle hitch, hood insulation, Tb crank, gm mudflaps, gm moulded carpet mats, Xzilon paint protection so far... 1998 Starcraft POP-UP Camper
1995 High Maintainance Son W/ Kawasaki KLX 110 dirt bike, Fmx bmx race bike, Dk general lee
Re: 2009 Truck Of The Week Winner #8
---
Woooooooooooooooo!!!!!!!!!!!!!!!!!!!!!!!!! Thanks everyone who voted for me!
---
Colorado & Canyon Club of CANADA - Member #13
20" RTX Blackhawk rims, 4/5 Drop (all Belltech), Belltech front & rear swaybars, Kenwood DDX6019 DVD / Sirius / iPod / Bluetooh, StreetScene Rollpan, Low-Profile X-Member, C-Notch, Flex-a-lite 180 e-fan, K&N FIPK, Line-x, HIDs, Optima, Donnelly 36400 Mirror, Smooth Fuel Door, A1Electric Power Windows Conversion, etc.